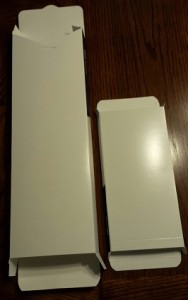 Folding boxes are one of the most popular products sold at Triple P because all of your needs are provided.  These boxes are sold for any manufactured products, and are often used in the medical and food services industries.  The side picture is of 2 SBS folding boxes sold by Triple P.  There are many other design options for creating these boxes, including gluing one end closing and perfing the other end.  We have full manufacturing capabilities with a full design staff.  Our machines can provide up to 6 color printing, dye cutting and gluing.
One of the best services provided by Triple P is the warehouse service.  A business can purchase any amount of boxes, but a business may not have the space to store all of the folding boxes ordered.  For example, a business can make an order for 5,000 products, but only needs 1,000 each week.  Triple P will store the remaining boxes and make a delivery of 1,000 boxes every week.
Contact Triple P for more information on purchasing and custom design options!