Corrugated Boxes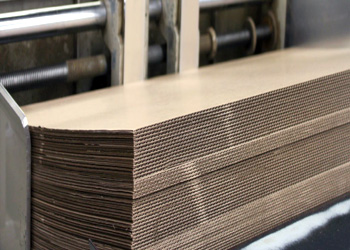 Triple P Packaging's corrugated fiberboard boxes are extremely versatile, durable, economical, and environmentally responsible, and can be manufactured into an infinite number of sizes and shapes. Corrugated fiberboard's low production cost, combined with its high strength-to-weight ratio, make it an indispensable component of worldwide packaging and shipping. Domestically, over 95% of all products consumed are shipped in corrugated boxes.
Corrugated fiberboard is essentially pulped wood fibers layered together with two main components: an arched layer called "fluting" adhered between smooth sheets called "liner". The strength and durability of these layers can be easily adjusted in many ways to fit almost any shipping or packaging need.
Not only may corrugated containers be produced using multiple layers or "walls" of corrugated board, thicker arched layers or "fluting" may be utilized, depending on need. Further, there are a wide variety of box styles from which to choose, again depending on the requirements of the product.
Regular slotted container (or "RSC") is by far the most common style and is what most people would consider a standard corrugated box. Other popular styles that Triple P Packaging offers include half slotted containers, telescope boxes, folders, rigid boxes, self-erecting boxes, and interior forms.
We believe that corrugated boxes offer a great balance between structural rigidity and protective cushioning. The corrugated fiberboards have excellent tear, tensile and burst strength to endure shipping stresses. However, often times additional security is needed, and corrugated must be combined with other materials such as protective foam cushioning or sealed air pillows.
Although corrugated is typically manufactured in its natural color of brown, at the request of our customers, the outside liner sheets are often bleached white and/or direct-printed with text or high resolution color graphics. Corrugated boxes can effectively become very attractive mobile billboards, which drive product image wherever they travel.