Protective Foam Packaging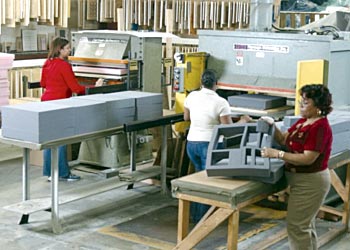 Triple P Packaging specializes in the custom design and manufacture of all types of protective foam packaging. Engineered foams' unique ability to absorb shock and vibration, combined with their low cost and light weight, make them a crucial component of a wide variety of packaging solutions.
We have a team of experienced professionals on staff using state of the art equipment to produce the highest quality & value protective foam packaging for our customers' unique needs. Our diversified foam packaging solutions utilize polyethylene foams, polyester foams, polyurethane foams, expanded polystyrene foams, and molded polypropylene foams, as well as cross-linked, anti-static, and other specialty foams.
Our 100,000+ square foot New England facility is equipped to perform any process necessary to get the job done, including die cutting, convoluting, hot wiring, profile cutting, routing, laminating, heat welding and gluing. We also construct caps, corner pads, separators, compartments or any other application required for your project.
It's usually what's inside that counts – and Triple P understands the importance of protecting the contents of your package. Our experienced packaging technicians are committed to finding the best cushioning solution for your unique circumstances. Whether it's a simple foam insert or a highly specialized, temperature-sensitive fully integrated custom case, we have the experience and capability to develop a highly effective and cost efficient protective foam packaging solution.