Warehousing & Inventory Management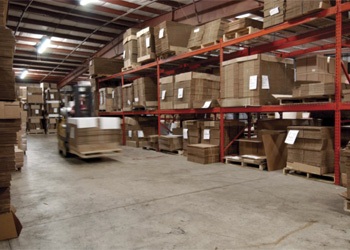 Triple P was founded over 45 years ago and was one New England's pioneers in just-in-time deliveries. With over 100,000 square feet of warehouse & manufacturing space in southern New England, as well as an entire transportation & logistics arm, we are uniquely suited to help you reduce your warehousing & inventory costs.
Quite often it can make all of the sense in the world to "buy in bulk" and order large quantities of packaging products, as you will usually reduce the cost per unit. However, the i) storage/warehouse space, ii) shrinkage, iii) handling, iv) investment capital employed, v) and insurance costs all add up quickly, often outweighing the percentage savings on the bulk purchase.
This is why we offer JIT solutions to our customers so that they can take advantage of the bulk purchase savings, yet avoid the carrying & handling costs (both monetary and operationally).
We can help you navigate this equation and create a solution that both saves you money and possibly improves the flow of your production and shipping. Our packaging and shipping experts will identify ways to streamline your processes and strategies, improve the quality and protection of your packaging, and save you time and capital.